Natural Medicine found again to help reduce pain and improve mobility of people suffering

osteoarthritis
Glucosamine and chondroitin
has comparable efficacy to celecoxib (celebrex) in reducing pain, stiffness, functional limitation and joint swelling/effusion after 6 months in patients with painful knee osteoarthritis. The patients in the study found a 50.1 per cent decrease in pain when taking the glucosamine and chondroitin complex.
This study also reported the natural products glucosamine and chondroitin have a good safety profile
(
Hochberg MC et al. Combined chondroitin sulfate and glucosamine for painful knee osteoarthritis: a multicentre, randomised, double-blind, non-inferiority trial versus celecoxib. Ann Rheum Dis. 2015 Jan 14. pii: annrheumdis-2014-206792)
This is not new, past studies have constantly found that glucosamine sulfate plus chondroitin not only helps reduce pain but may
halt
the progression of the condition.
Also, natural
anti inflammatory
supplements such as Lyprinol and fish oil may help add to the
positive
effects of
glucosamine and chondroitin.
Other studies have also found natural medicines work as well or better than NSAID's and importantly without the serious side effects
A study
that examined data of 600 participants looked at structural changes, cartilage volume, joint space and pain in arthritis of the knee over a two year period.
Using magnetic resonance imaging (MRI), to compare the results of supplementary glucosamine and chondroitin sulphates with or without analgesic/anti-inflammatory(NSAID) drugs on certain markers of arthritis disease progression.
The results of this study found significant improvements in some of the joint measurements. Those taking analgesic/anti-inflammatory medication plus glucosamine and chondroitin had significantly reduced loss of cartilage volume at 24 months in the medial central plateau.
Also those who took both anti-inflammatory pain medications plus glucosamine and chondroitin supplements had a mild reduction in disease progression and less pain compared to those who took only pain/anti-inflammatory medications without the supplements.
The authors of the study reported that the analgesic/anti-inflammatory participants who took glucosamine and chondroitin sulphates had a reduced loss of cartilage volume over 24 months in subregions when assessed with MRI, which could not be identified by normal X-rays(1)
This study adds positive data to the complementary medicine approach in the management of osteoarthritic conditions where anti-inflammatory supplements containing omega-3 fatty acids (fish oil, Lyprinol) (2)(3) and analgesic /anti-inflammatory herbs including White willow bark are often recommended in combination and been found to have considerable potential in the symptomatic treatment of rheumatic disorders (4)(5).
The combination of glucosamine and chondroitin plus anti-inflammatory dietary supplements and if needed herbs may be a good combination in helping relieve the symptoms and indeed the progression of some osteoarthritic conditions without the side-effects of NSAID's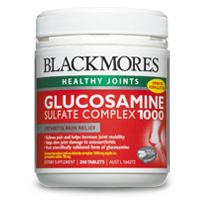 Effective for osteoarthritic pain relief
Helps reduce cartilage wear
Contains the most scientifically validated form of glucosamine; glucosamine sulfate sodium chloride complex
Results expected after 2-4 weeks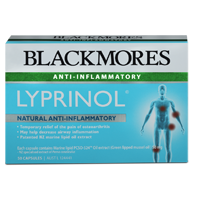 Symptomatic relief of osteoarthritis.
Temporary relief of the pain of osteoarthritis.
Has anti-inflammatory properties.
1.
Johanne Martel-Pelletier, Camille Roubille1 et al. First-line analysis of the effects of treatment on progression of structural changes in knee osteoarthritis over 24 months: data from the osteoarthritis initiative progression cohort ,
Ann Rheum Dis doi:10.1136/annrheumdis-2013-203906
2.
Sheila A. Doggrell, Lyprinol—Is It a Useful Anti-Inflammatory Agent?
Evid Based Complement Alternat Med. 2011; 2011: 307121. Published online 2011 August 11. doi:
10.1093/ecam/nep030
3.
Chi-Ho Lee,1 John Hon-Kei Lum et al. Pain Controlling and Cytokine-regulating Effects of Lyprinol, a Lipid Extract of Perna Canaliculus, in a Rat Adjuvant-induced Arthritis Model, Evid Based Complement Alternat Med. 2009 June; 6(2): 239–245. Published online 2007 September 26. doi:
10.1093/ecam/nem100
4.
Ernst E, Chrubasik S. Phyto-anti-inflammatories. A systematic review of randomized, placebo-controlled, double-blind trials.
Rheum Dis Clin North Am
. 2000;26(1):13-27.
5.
Schmid B, Ludtke R, Selbmann HK, et al. Efficacy and tolerability of a standardized willow bark extract in patients with osteoarthritis: randomized placebo-controlled, double blind clinical trial.
Phytother Res.
2001 Jun;15(4):344-50
The information given by Naturopath Russell Setright in this article is for general educational purposes only and not for the treatment of any disease or condition. Always see your Healthcare Practitioner for any suspected disease accident or condition and follow there expert advice.